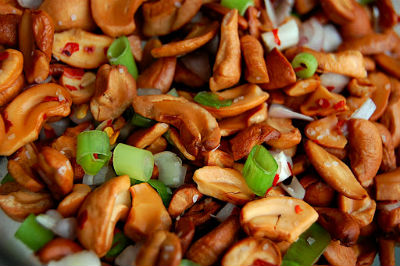 Ingredients:
Cashews – 1/2 cup, raw, whole
Small Onions – 1 to 2 tblsp, coarsely chopped
Spring Onions – 1 to 2 tblsp, finely sliced
Red Chilli Flakes – 1 tsp
Lime Juice – 1 tblsp
Salt as per taste
Oil for frying

Method:
1. Heat oil in a pan over medium flame.
2. Add the cashews (few at a time) and cook till they turn soft, pale golden brown or for 2 to 3 minutes.
3. Remove and place on kitchen towel to drain excess oil.
4. Transfer them to a bowl and add the onions, spring onions, chilli flakes and salt. Mix well.
5. Before serving, add the lime juice and toss well.
6. Serve warm.