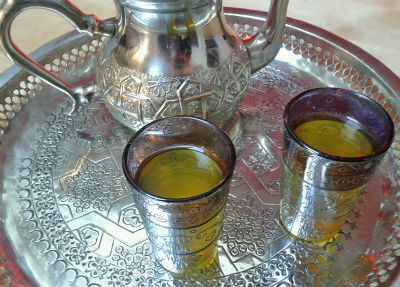 Ingredients:
Water – 2 cups
Chinese Green Tea – 1/2 tsp
Sugar – 2 to 3 lumps
Mint Leaves – 1/2 bunch, washed, dried
Method:
1. Boil the water over moderate flame.
2. Place the green tea in a small teapot and add 1 or 2 glasses of boiling water.
3. Discard the water but leave the tea leaves in the pot.
4. Add the mint leaves to the pot and fill it with boiling water.
5. Add sugar.
6. To serve, pour it into a glass and pour the contents of the glass back into the pot.
7. Repeat this 3 to 4 times until the ingredients are well mixed.
8. Now serve.
image credit: grenobloise