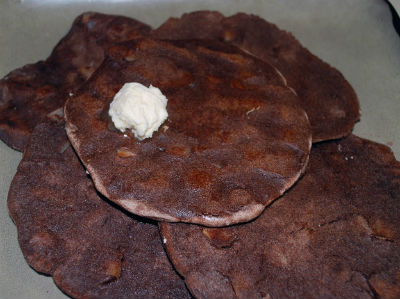 Ingredients:
Ragi (Finger Millet Flour) – 1 cup
Cardamom – 1 tsp, powdered
Jaggery – 3/4 cup
Coconut – 1/2 cup, grated
Cashewnuts – 10, powdered
Ghee – 1/4 cup
Banana Leaf
Method:
1. Dissolve the jaggery in a pan of water over moderate flame.
2. Bring to a boil and add the ragi flour.
3. Stir to mix well.
4. Once it starts to thicken, add coconut and cardamom.
5. Mix well.
6. Add the powdered cashews and mix.
7. Grease a banana leaf with ghee.
8. Pour some batter on the banana leaf and flatten it.
9. Heat a tawa over moderate flame.
10. Remove the adai from the leaf and place on the tawa.
11. Cook on both sides till crisp.
12. Remove and serve hot with chutney of choice.
Tip: This can be stored for 2 days.
image credit: from my home kitchen