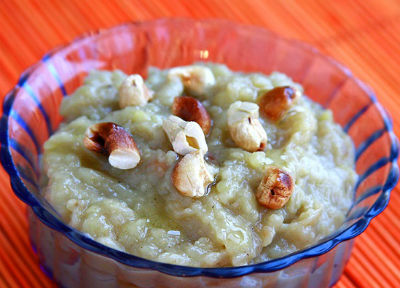 Ingredients:
Oats – 1 cup
Moong Dal – 1/2 cup, cooked
Jaggery – 1/2 cup, powdered
Ghee – 1/4 cup
Cardamom – 4
Cashewnuts – 10, powdered
Method:
1. Sprinkle some water on the oats and keep aside.
2. Heat a pan over moderate flame.
3. Add the soaked oats and dal.
4. Add little water and stir well.
5. Cook for 2 minutes or until oats are done.
6. Now add the jaggery and stir well.
7. Once it starts to thicken and the raw smell disappears, add 2 tblsp ghee.
8. Keep stirring so that it does not stick to the pan.
9. Add the cardamoms, cashews and remaining ghee.
10. Mix well until combined.
11. Transfer to individual serving plates.
12. Serve hot.
image credit: veg corner
Subscribe to our Newsletter
Receive the latest recipes & kitchen tips !