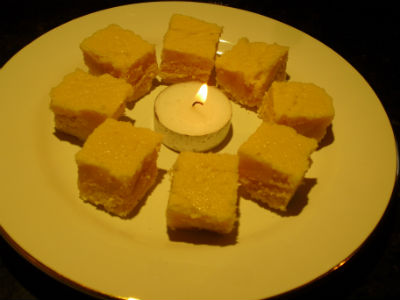 Ingredients:
Almonds – 15
Cashewnuts – 20
Sugar – 150 gms
Elaichi Powder – little
Ghee – 2 tsp

Method:
1. Soak the almonds and cashews in water for 60 minutes.
2. Peel the almonds skin and discard.
3. Grind the almonds and cashews in a mixie.
4. Boil the sugar with little water.
5. Once the sugar has dissolved, add the ground cashew-badam paste, elaichi and ghee.
6. Mix well till it thickens.
7. Transfer to a greased plate and allow it to cool.
8. Once cooled, cut into desired shapes.
9. Serve in an airtight container.
image credit:kaipakkuvam