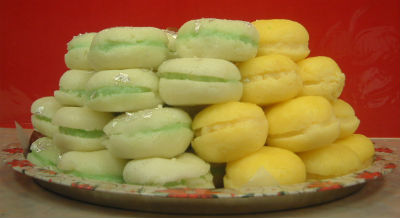 Ingredients:
Cow's Milk – 2 litres
Sugar – 500 gms
Whey Water – 2 cups
Unsweetened Khoya – as required
Almonds
Cashews
Rasisins
Silver Warq
Edible Food Colour (optional)
Method:
1. Boil the milk over moderate heat.
2. Add the whey water and let the milk curdle.
3. Using a muslin cloth, drain to make paneer.
4. Shape the paneer into long thick rectangles or squares.
5. Boil sugar with enough water to make a sticky sugar syrup.
6. Add the paneer to the syrup and allow it to soak for a few hours.
7. Remove the paneer and slice each into two halves.
8. Place a cashew, almond and raisin in one half.
9. Place the other half on top and serve like a sandwich.
10. Garnish with slivered almonds and silver warq.
11. Serve at once or keep in the fridge until ready to serve.