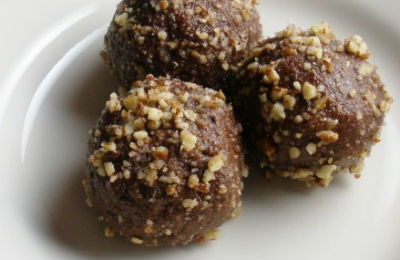 Ingredients:
Cocoa Powder – 5 to 6 tsp
Ghee – 3 cups
Sugar – 2 cups, powdered
Rava – 2 cups, dry roasted, powdered
Almonds/Cashewnuts/Pistachios/Chocolate Sprinkles – few, finely chopped (optional), to garnish
Method:
1. Combine the sugar, cocoa and rava together in a pan.
2. Heat ghee in a pan over moderate flame for 3 minutes.
3. Remove and pour the hot ghee over the rava mixture.
4. Mix well until it becomes soft and sticky.
5. Make small balls.
6. Sprinkle almonds or cashewnuts on top and keep aside to cool.
7. Remove and store in an airtight container.
8. Keep in the fridge for a few hours before serving.