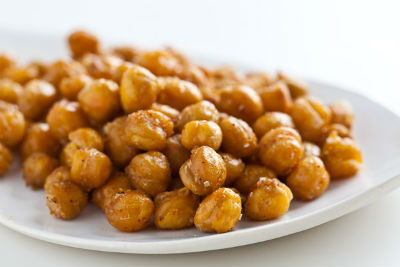 Ingredients:
Chickpeas – 1 3/4 cups, boiled, skin removed
Extra-Virgin Olive Oil – 1 tblsp
Mild Curry Powder – 1 tsp
Thyme – 1/4 tsp, dried
Ginger – 1/2 tsp, grated
Sea Salt as per taste
Method:
1. Combine olive oil, curry powder, thyme and ginger in a bowl.
2. Stir to mix well.
3. Add the chickpeas and toss well to coat.
4. Spread the chickpeas on a baking tray lined with a sheet.
5. Bake them in a preheated oven at 400F till light brown and crisp, 20 to 30 minutes.
6. Remove and sprinkle some salt.
7. Keep aside to cool and serve.
These are best served at once.
Note: image is for illustration purposes only and not that of the actual recipe.