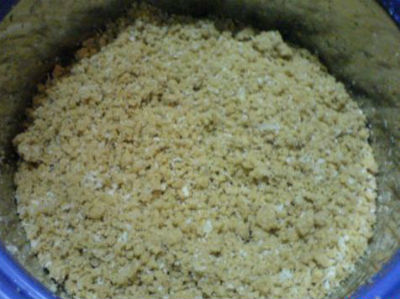 Ingredients:
Rava – 1 cup
Jaggery – 1 1/2 cups (Paagu Vellam)
Milk – 3/4 cup
Water – 2 cups
Ghee – 1/2 cup
Cashewnuts – few
Raisins – few
Cardamom – little
Method:
1. Heat little ghee in a pan and fry the rava.
2. Combine milk and water in a bowl.
3. Add the rava and allow it to boil.
4. Lightly fry the cashews, raisins and cardamom in little ghee.
5. Add this to the rava mixture.
6. Make a thick syrup of the jaggery (vella pagu) and add the rava mixture.
7. Stir to mix well and allow to cool.
8. Once cooled, the mixture should separate into small lumps.
9. Serve.
Note: image is for illustration purposes only and not that of the actual recipe.