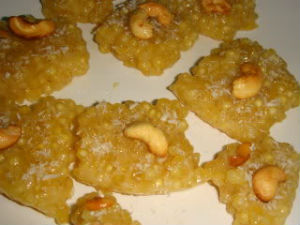 Ingredients:
Sago (Javvarisi) – 200 gms, soaked in water for 15 minutes
Sugar Syrup – 1 to 2 cups
Ghee – 150 gms
Cherries – 20
Cashewnuts – as required
Raisins – as required
Saffron – as required
Elaichi – as required
Edible Camphor (Pachai Karpooram) – as per taste
Method:
1. Squeeze dry the sago and fry in ghee till golden brown.
2. Add this to the sugar syrup along with ghee, saffron, camphor and place over low-medium heat.
3. Cook till all liquid has evaporated and it is thick and sticky. Stir well to prevent it from sticking to the pan.
4. Transfer to a greased plate and allow it to cool.
5. Before it cools completely, cut into desired shapes and garnish with fried cashews, raisins and elaichi.
6. After it has cooled completely, transfer to air-tight container.
image credit: taste of mysore