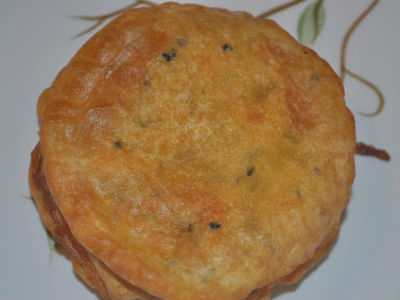 Ingredients:
Maida – 2 cups
Rice Flour – 1/4 cup
Sugar Syru – 1 to 2 cups
Curd – 1 cup
Kesari Powder – 1/4 tsp
Cooking Soda – a small pinch
Vanaspati – 200 gms
Method:
1. Mix maida, rice flour, kesari powder, soda and curd together with little water to a smooth batter, slightly thicker than an idly batter.
2. Heat vanaspati in a pan over moderate heat.
3. Make small flat rounds of the batter (like appalam) and fry them in the vanaspati till golden brown.
4. Remove and dip them in the sugar syrup for a few minutes.
5. Remove and transfer to a serving platter.
This makes an ideal Diwali sweet.
image credit: zesty south indian kitchen.