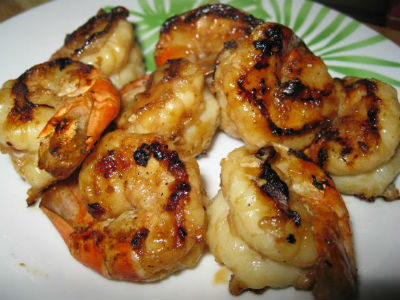 Ingredients:
Shrimp – 225 gms, medium, tails intact, peeled, deveined
Ginger – 1/2 tblsp, finely chopped
Garlic – 1 tsp, chopped
Soy Sauce – 1 tblsp
Sesame Oil – 1/4 tsp
Sugar – 1/4 tsp
Salt – 1/4 tsp
Plum Sauce to serve

Method:
1. Mix the ginger, garlic, soy sauce, oil, sugar and salt in a bowl.
2. Add the shrimps and mix well.
3. Keep in the fridge for 15 to 30 minutes (or longer if desired) to marinate.
4. Then, cook the shrimps on a greased hot grill for a minute on each side till cooked and transfer to a serving plate.
5. Serve warm with plum sauce.
Tip: Instead of plum sauce you can use sweet and sour dipping sauce, if available.
You can also skewer the shrimps and place them on the hot grill.
image credit: food