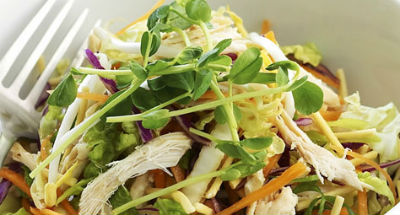 Ingredients:
Carrot – 1, small, peeled, grated
Cabbage – 1 1/2 cups, shredded
Lettuce – 1 1/2 cups, shredded
Red Capsicum – 1/2, seeded, finely sliced
Basil Leaves – 1 tblsp
Chicken Breast – 1 small, cut into bite sized pieces
Almonds – 1/4 cup, toasted, slivered
Sesame Seeds – 1/2 tblsp
Vegetable Oil – 1/8 cup
Soy Sauce – 1 tblsp
Rice Vinegar – 1 tblsp
Sugar – 1/4 tsp
Chow Mein Noodles – 1/4 cup
Optional ingredients:
Salt as per taste
Pepper as per taste
Method:
1. Combine the carrots, cabbages, lettuce, capsicum, basil leaves, chicken breasts, almonds and sesame seeds in a bowl.
2. Whisk the oil, soy sauce, vinegar and sugar till smooth.
3. Add salt and pepper if using.
4. Pour the dressing over the salad and toss well to combine.
5. Garnish with the noodles and serve.