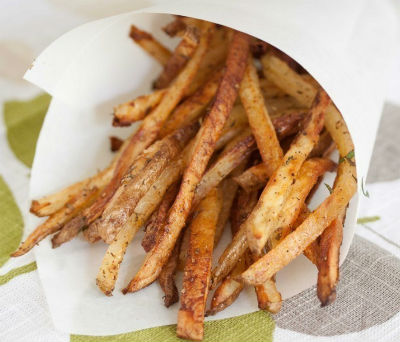 Ingredients:
Potatoes – 1, peeled, cut into 1/4 inch sticks
Oil – 2 1/4 tblsp
Garlic – 2 cloves, minced
Sea Salt as per taste
Parsley or Mint Leaves – 1/2 tsp, finely chopped
Method:
1. Mix the potato sticks with 1 1/2 tblsp of oil.
2. Toss well to coat and place them on a baking tray.
3. Bake them in a preheated oven at 450F for 8 to 10 minutes on each side, until crisp outside and cooked through.
4. In a small pan, mix the remaining oil with garlic and cook till garlic starts to brown, for 1 to 2 minutes.
5. Transfer the fries to a plate.
6. Sprinkle generously with salt and drizzle the garlic on top.
7. Sprinkle parsley and serve as a snack.
image credit: taste book