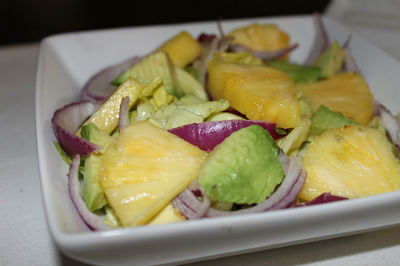 Ingredients:
Pineapple – 1, medium, ripe, skin and eyes removed, flesh cut into small slices
Avocado – 1, ripe, halved, stones and skin removed, cut into slices
Orange – 1, peeled, segmented
Rocket Leaves or Mixed Salad Leaves – 40 gms
Red Onion – 1, small, cut into thin rings
Olive Oil – 2 to 3 tblsp
Lemon Juice – 1 tblsp
Salt as per taste
Black Pepper Powder as per taste
Method:
1. Combin the olive oil, lemon juice, salt and pepper powder in a bowl.
2. In a large plate, place the slices of pineapple, avocado and oranges alternatively.
3. Add a handful of salad leaves and onion rings.
4. Spoon the dressing over.
5. Serve at once.
image credit: flickr