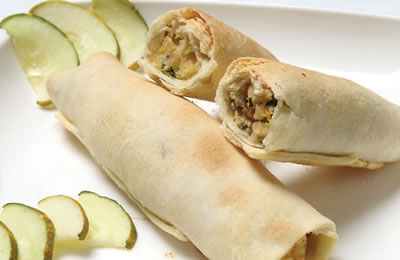 Ingredients:
Apple – 1, grated
Paneer – 1 cup, grated
Ginger Chilli Paste – 1 tsp
Coriander Leaves – 1 tblsp, grated
Wheat Flour – 1 cup
Oil – 2 tblsp
Salt as per taste
Method:
1. In a bowl combine apple, paneer, ginger chilli paste, salt and coriander leaves.
2. Mix wheatflour, oil and little water to make a dough.
3. Make small balls from the dough and roll them into small-medium circles.
4. Place 1 tblsp of the apple-paneer mixture in the middle and roll it.
5. Bake in an oven or a microwave for 5 minutes or till light golden brown on top.
6. Serve warm with green chutney.

Tip: Preheat the oven to 180C.
Recipe credit: Womans Era Magazine
Subscribe to our Newsletter
Receive the latest recipes & kitchen tips !