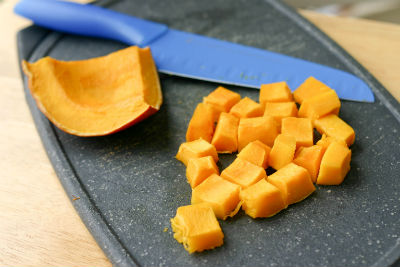 Ingredients:
Pumpkin – 250 gms, peeled, cubed
Water – 225 ml
Sugar – 2 tblsp
Soy Sauce – 1/2 tblsp
Salt as per taste
Black Pepper Powder as per taste
Method:
1. Add the sugar, water and pumpkin to a pan.
2. Place over medium flame and bring to a boil.
3. Reduce heat and cover pan with a lid.
4. Allow it to simmer for 3 to 4 minutes or until pumpkin is slightly cooked.
5. Remove the pumpkin pieces and keep aside.
6. Continue to cook the water until it is reduced by half.
7. Add soy sauce, salt and pepper powder.
8. Now add the pumpkin pieces to the pan and simmer, uncovered, for 2 minutes.
9. Serve warm with rice.
image credit: our family food adventures