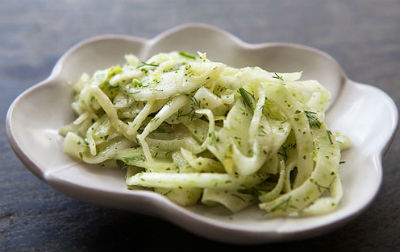 Ingredients:
Fennel Bulb – 1, medium, halved, core removed
Lemon Juice – 1/2 tblsp
Red Wine Vinegar – 1/2 tsp
Salt as per taste
Black Pepper Powder as per taste
Extra Virgin Olive Oil – 1 tblsp
Parsley – 1/2 tblsp, chopped
Method:
1. Finely slice the fennel crosswise to make 2 cups.
2. In a bowl mix the lemon juice, vinegar, pepper powder and salt.
3. Gradually pour the olive oil and fennel.
4. Toss well and add parsley.
5. Keep in the fridge for an hour.
6. Serve chilled.
Note: You can also serve as it is without keeping it in the fridge.
Note: image is for illustration purposes only and not that of the actual recipe.
Image credit: Simply Recipes