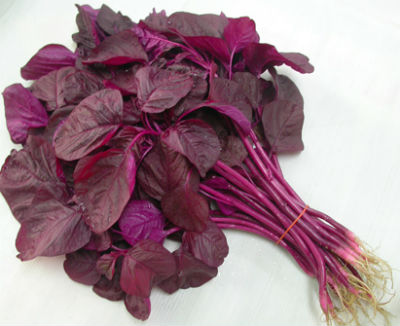 Ingredients:
Red Spinach – 1 bunch, washed, coarsely chopped
Onion – 1, medium, sliced
Garlic – 2 cloves, crushed
Green Chillies – 2, small, deseeded, halved
Olive Oil – 1 tblsp
Tomato – 1, medium
Dried Mango – 2 pieces
Salt as per taste
Method:
1. Heat oil in a pan over moderate flame.
2. Fry onions till soft.
3. Add the tomatoes, garlic, dried mango  pieces and green chillies.
4. Fry for a minute or two.
5. Add the spinach to pan.
6. Add little water, cover with a lid and cook for 5 to 8 minutes over low flame.
7. Stir frequently and add salt to taste.
8. Serve with rice.
Note: image is for illustration purposes only and not that of the actual recipe.