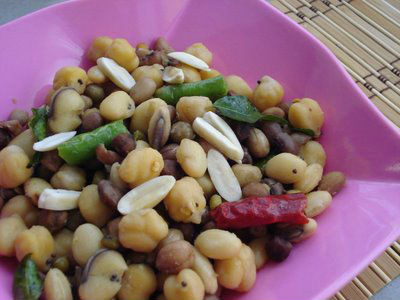 Ingredients:
Groundnuts – 1 small cup, soaked overnight
Black Chana – 1 small cup (black chickpeas), soaked overnight
Green Peas – 1 small cup, soaked overnight
White Chana – 1 small cup (white chickpeas), soaked overnight
Rajma – 1 small cup, soaked overnight
Mustard Seeds – little
Asafoetida Powder – a pinch
Coconut – 1 cup, grated
Salt as per taste
Oil as required
Grind to a powder:
Bengal Gram – 2 tsp
Coriander Seeds – 1 tsp
Dry Chillies – 5
Jeera – 1/2 tsp
Pepper – 1/2 tsp
Method:
1. Drain the water from the chickpeas, green peas, rajma and groundnuts.
2. Boil them in enough water.
3. Heat little oil in a pan.
4. Fry the mustard seeds and asafoetida powder for a few seconds.
5. Add the boiled chickpeas, green peas, rajma and nuts.
6. Add the ground powder, grated coconut and salt.
7. Mix well.
8. Serve warm to guests coming for the navratri golu.
Tip: You can substitute green peas with corn kernels or add it if desired.
Note: image is for illustration purposes only and not that of the actual recipe.
Image credit: cooking4allseasons
Subscribe to our Newsletter
Receive the latest recipes & kitchen tips !