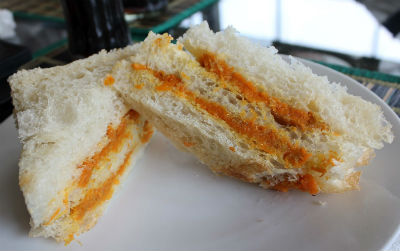 Ingredients:
Carrot – 2, grated
Cheese Spread – 2 tblsp
Mayonnaise – 2 tblsp
Sweet Ginger Paste (or Chutney) – 1 tsp
Butter – 4 tsp
Bread Slices – 4, crusts removed
Salt as per taste
Black Pepper Powder as required
Method:
1. Mix the carrot, cheese spread, mayonnaise and ginger paste in a bowl.
2. Add salt and pepper.
3. Butter the bread slices and place the carrot mixture onto one slice.
4. Top with the other bread slice.
5. Cut into halves or quarters, as desired.
6. Serve with green chutney or ketchup.
Image credit: insearchofincredible.blogspot.com