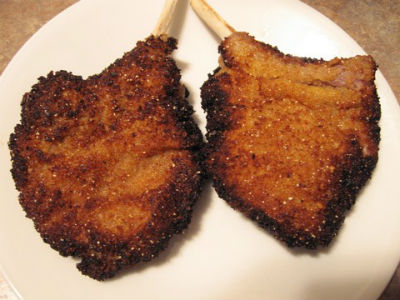 Ingredients:
Lamb Chops – 3, tenderised
Egg – 1/2 or 1 small, lightly beaten
Breadcrumbs as required
Salt as per taste
Oil
Maida – 1/4 cup
Grind to a paste:
Garlic – 2 cloves, minced
Green Chilli – 1
Coriander Leaves – 1/4 cup
Ginger – 1/4 tsp, minced
Cumin Seeds – 1/2 tsp
Lemon Juice – 3/4 tblsp
Black Peppercorns – 1/4 tsp
Salt as per taste
Method:
1. Apply the ground paste to the lamb chops and keep aside to marinate for 1 to 2 hours.
2. Heat oil in a frying pan.
3. Roll the chops in the flour and then dip in the beaten egg.
4. Coat them with the breadcrumbs.
5. Shallow fry for 4 to 6 minutes on each side till golden brown.
6. Serve hot.
Image credit: slowtrav