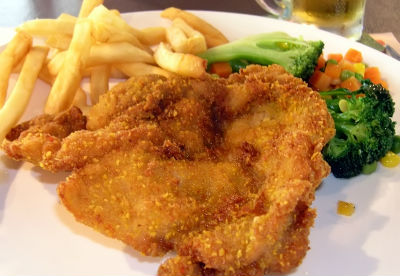 Ingredients:
Chicken Breast – 225 gms, boneless, sliced
Olive Oil – 1/2 tsp
Green Chilli – 1, chopped
Coriander Leaves – 1 tblsp, chopped
Salt as per taste
Lemon Juice – 1/2 tblsp
Pepper Powder – 1/4 tsp
Method:
1. Sprinkle salt and pepper powder on the chicken slices.
2. Mix green chilli,coriander leaves, lemon juice and olive oil.
3. Blend to a smooth paste.
4. Rub this paste onto the chicken slices and keep aside to marinate for a few hours.
5. Spread the chicken slices on an oven tray and cook over a pre-heated grill for 10 to 15 minutes.
6. Turn over once and cook till it is tender and juicy.
7. Serve with sliced cucumbers and tomatoes.
Note: image is for illustration purposes only and not that of the actual recipe.