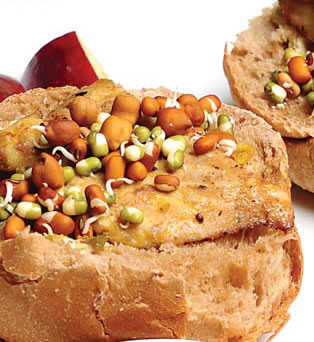 Ingredients:
Fish Fillets – 4, boneless
Lemon Juice – 2 tsp
Mixed Herbs – 1 tsp
Red Chilli Powder – 1 tsp
Olive Oil – 2 tblsp
Salt as per taste
Burger Buns – 2
Cheese Spread – 4 tblsp
Mixed Sprouts – 1/2 cup
Method:
1. Mix salt, red chilli powder and lemon juice in a bowl.
2. Rub this on the fish fillets and keep aside to marinate for 10 minutes.
3. Heat olive oil in a non-stick pan.
4. Grill the fillets on both sides for about 2 minutes.
5. Sprinkle herbs and keep aside.
6. Cut the burger buns into two pieces horizontally.
7. Spread the cheese spread and place one fillet on each of the halves.
8. Top with sprouts and close with the other half.
9. Serve with salad of choice or with fresh fruits.