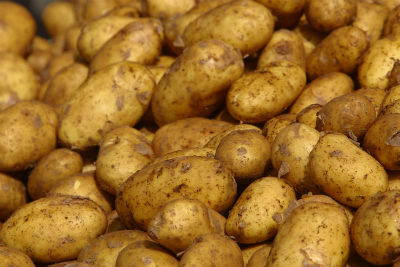 Ingredients:
Potatoes – 500 gms, boiled, peeled
Tomatoes – 8 to 10
Green Chillies – 7 to 8, finely chopped
Ginger – 2 one inch pieces, finely chopped
Red Chilli Powder – 1/2 tsp
Mustard Oil – 2 tblsp
Coriander Leaves – handful, chopped
Salt as per taste
Method:
1. Mix the green chillies, ginger, red chilli powder, mustard oil and salt with the potatoes.
2. Mash well.
3. Grill the tomatoes on an open flame.
4. Peel and discard the skin.
5. Mash well.
6. Place the mashed potato mixture on a plate.
7. Add the mashed tomato around it.
8. Garnish with coriander leaves.
9. Serve as is or as a side dish.
Note: image is for illustration purposes only and not that of the actual recipe.