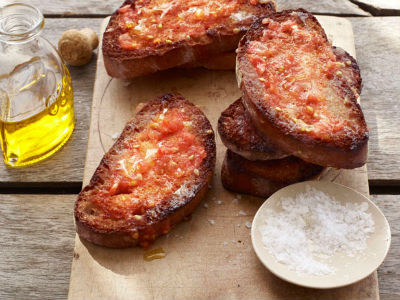 Ingredients:
Brown Bread Slices – 2, thick
Garlic – 1 clove, halved (optional)
Tomatoes – 2, halved, skins removed, pulped
Extra-Virgin Olive Oil – 2 tblsp
Sea Salt
Mint Leaves – few, chopped, to garnish
Method:
1. Toast the bread slices and rub the garlic gently on one side.
2. Pour/Apply the tomato pulp over the bread slices.
3. Drizzle olive oil over the bread.
4. Sprinkle a pinch of salt and serve immediately, garnished with mint leaves.
Image credit: Food Network