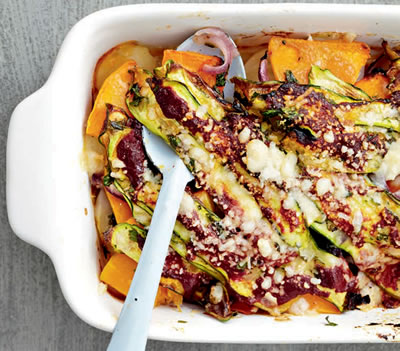 Ingredients:
Potatoes – 500 gms, peeled, thinly sliced
Butternut – 500 gms, peeled, thinly sliced
Red Onion – 1, thinly sliced
Courgettes – 250 gms, thinly sliced
Tomata Puree – 1 cup
Parmesan Cheese – 1/2 cup, grated
Thyme – 1 tblsp, chopped
Parsley – 2 tblsp
Garlic – 2 tsp, crushed
Butter – 60 to 75 gms, softened
Salt as per taste
Black Pepper Powder as per taste
Method:
1. In a bowl combine the butter, thyme, parsley and garlic.
2. Place the potatoes onto the base of the greased ovenproof dish.
3. Spread 1/3rd of the butter mixture over the potatoes.
4. Add salt and pepper as per taste.
5. Arrange the butternut and onion on top.
6. Spread another 1/3rd of the butter mixture.
7. Add salt and pepper.
8. Top off with a layer of courgettes and the remaining butter mixturee.
9. Spread the tomato puree evenly over the top.
10. Cover and bake in a microwave for 45 minutes.
11. Remove and sprinkle the cheese on top.
12. Return to the microwave and bake uncovered for 12 to 15 minutes till golden brown.
13. Serve with garlic bread.
Subscribe to our Newsletter
Receive the latest recipes & kitchen tips !