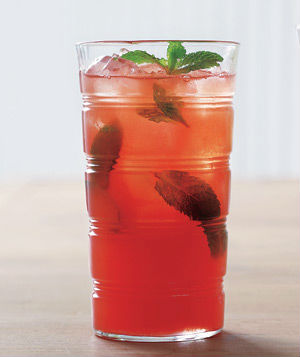 Ingredients:
Watermelon – 1 cup, deseeded and cut into pieces
Lemon Basil Leaves – 2 sprigs
Mint Leaves – 2 sprigs
Rose Syrup – 1 tsp
Sugar – 1/2 tsp (optional)
Ice Cubes
Method:
1. Mix all ingredients and blend well.
2. Half fill a glass with ice cubes and strain the juice over.
3. Serve chilled, garnished with mint leaves.
Tip: If you are unable to find lemon basil leaves, use regular basil leaves and a few drops of lemon juice.