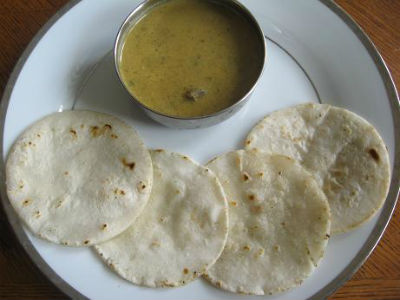 Ingredients:
Coconut Milk – 3 cups, thick
Rice Flour – 5 cups + extra for dusting
Salt – 1 tsp
Method:
1. Pour the coconut milk into a pan and bring to boil.
2. Gradually add the rice flour and salt, stirring all the time till a dough is formed.
3. Remove and keep aside to cool.
4. Make small sized balls and dust them with rice flour.
5. Roll into thin, small round pathiris.
6. Heat a tawa and roast the pathiri on both sides for 3 to 5 minutes.
7. Do not over cook the pathiris and ensure the colour does not change from white.
8. Serve with curry of choice.
Image credit: India easy cooking