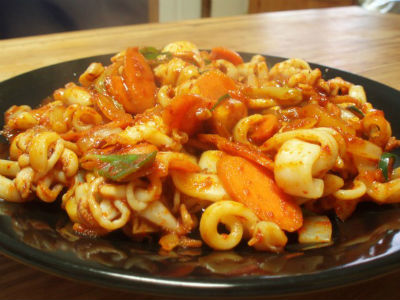 Ingredients:
Squids – 125 gms, outer skin removed, cleaned, washed and cut into small pieces
Oil – 1 tblsp
Green Chilli – 1, slit
Salt as per taste
Grind to a coarse paste:
Garlic – 1 clove, chopped
Fennel Seeds – 1 tsp
Red Chilli Powder – 1 tsp
Turmeric Powder – 1/4 tsp
Method:
1. Heat oil in a pan.
2. Add the squid and green chillies.
3. Fry over low heat.
4. Mix the ground paste with 2 tblsp water and add to the pan.
5. Mix well and cook till water evaporates.
6. Add salt and when dry, remove from heat.
7. Transfer to a serving plate.
8. Garnish with coriander leaves or spring onions and serve hot with chilli sauce.