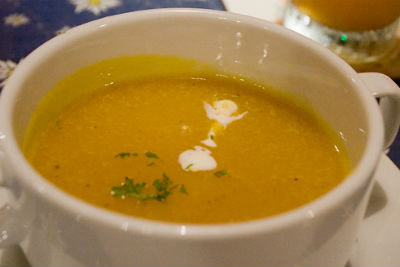 Ingredients:
Masoor Dal – 100 gms, soaked in hot water for 60 minutes
Butter – 25 gms
Onions – 3, finely chopped
Carrot – 1, grated
Celery – 1 stalk, chopped
Red Pumpkin – 3 tblsp, grated
Vegetable Stock – 800 ml
Orange Juice – 200 ml
Orange Rind – 1/2 tsp, grated
Bay Leaves – 2
Cinnamon Powder – a pinch
Salt as per taste
Pepper Powder as per taste
For Garnish:
Sour Cream – 2 tblsp
Hung Curd – 2 tblsp
Orange Rind – few slivers
Method:
1. Drain the dal and place it in a large microwave casserole.
2. Add butter and cover.
3. Cook on high for 2 minutes.
4. Add the onions, carrot, pumpking and celery.
5. Cook, covered, on high for another 3 minutes.
6. Now add 2/3rd of the stock, orange juice and rind, bay leaves, salt and pepper.
7. Cook for 15 more minutes on high.
8. Discard the bayleaf and pour the remaining stock.
9. Keep aside to cool.
10. Transfer to a blender and blend till smooth.
11. Now keep it back in the microwave and cook for 10 minutes on medium.
12. Add the cinnamon powder.
13. Transfer to serving bowls garnished with cream, curd and orange rind.
14. Serve hot or warm.
Note: image is for illustration purposes only and not that of the actual recipe.