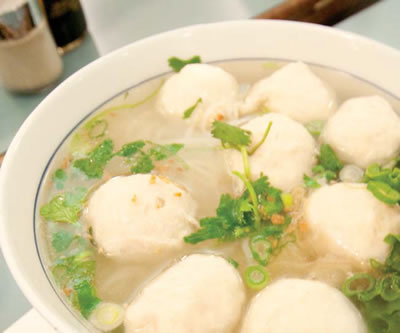 Ingredients:
Surmai Fish (King Fish/Seer Fish) – 1 kg, flesh scraped out
Egg – 1
Oil – 2 tblsp
Cornflour – 4 tblsp
Spring Onions – 1, chopped, to garnish
Salt as per taste
Black Pepper Powder as per taste
Method:
1. Mix the fish with salt and pepper.
2. Add the egg and knead till it is completely absorbed.
3. Add the oil and knead again.
5. Now add the cornflour and knead till smooth.
6. Make small balls and drop it in a pan of hot, boiling water.
7. Add salt and allow it to simmer for a few minutes.
8. When done, transfer to a soup bowl.
9. Garnish with spring onions.
10. Serve.