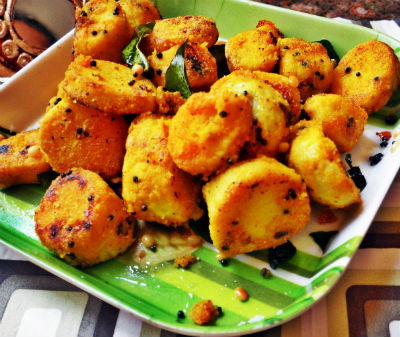 Ingredients:
Colocasia – 300 gms, peeled, washed, cut into thin slices
Oil – 4 tblsp
Mustard Seeds – 2 tsp
Small Onions – 10, chopped
Curry Leaves – handful
Red Chilli Powder – 2 tsp
Turmeric Powder – 1 tsp
Pepper Powder – 1 tsp
Salt as per taste
Method:
1. Heat oil in a pan.
2. Fry the mustard seeds till it starts to splutter.
3. Add the small onions and curry leaves.
4. Fry till onions turn golden brown.
5. Add red chilli powder, turmeric powder, pepper powder and salt.
6. Stir and add the sliced colocasia.
7. Add 1 cup of water and cover the pan with a lid.
8. Reduce heat to low and cook for 15 to 20 minutes.
9. Remove lid and stir-fry till it is dry.
10. Serve hot with cooked rice or serve as a snack.
image credit: sizzling taste buds