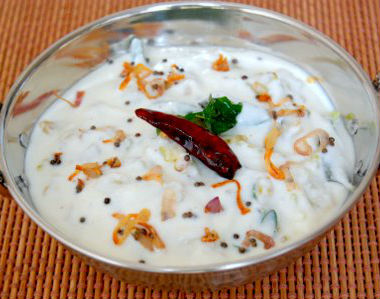 Ingredients:
Bittergourds – 100 gms, seeds removed and chopped
Oil – 1 1/2 tsp
Mustard Seeds – 1/4 tsp
Chana Dal – 1/2 tsp
Curry Leaves – few
Green Chillies – 1 to 2, chopped
Curd – 2/3 cup, whisked
Salt as per taste
Grind to a fine paste:
Coconut – 1/4 to 1/2 cup, grated
Green Chillies – 1 to 2, chopped
Mustard Seeds – 1/4 tsp
Water – 1/4 to 1/2 cup
Method:
1. Heat oil in a pan and fry the mustard seeds.
2. When the seeds start to splutter, add the chana dal.
3. Fry till golden brown.
4. Add curry leaves, green chillies and bittergourds.
5. Saute till bittergourds turn brown.
6. Mix curd with salt and ground paste.
7. Add to the pan and mix well.
8. Cook for 3 to 5 minutes more.
9. Remove and serve.
image credit: mariasmenu