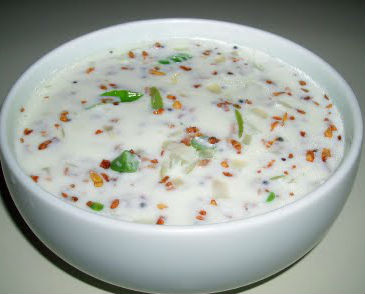 Ingredients:
Bittergourd – 300 gms, washed, seeds removed and chopped
Oil – 2 tblsp
Curd – 2 cups, whisked
Salt – 2 tsp or as per taste
Grind to a smooth paste:
Coconut – 1, medium, grated
Green Chillies – 8 to 10, chopped
Mustard Seeds – 1 tsp
Water – 1 1/2 cups
For Tempering:
Oil – 2 tblsp
Mustard Seeds – 1 tsp
Method:
1. Heat oil in a pan over moderate flame.
2. Saute the chopped bittergourds till brown and keep aside.
3. Mix curd with the ground paste and keep aside.
4. Heat oil for tempering and fry the mustard seeds till it splutters.
5. Pour it over the curd-coconut mixture.
6. Add salt and cook over moderate heat for 5 to 6 minutes.
7. Add the bittergourds and mix well.
8. Remove and keep aside to cool.
9. Serve.
image credit: priyasoshy
Subscribe to our Newsletter
Receive the latest recipes & kitchen tips !