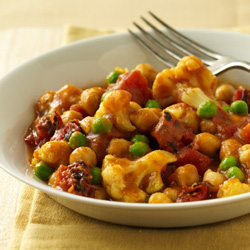 Although stews have a reputation for being winter meals, this side dish is perfect all-year round. Serve as a side dish to grilled chicken or fish of or spoon over rice or couscous for a delicious and filling meal.
Ingredients
1 16 oz package frozen cauliflower florets
2 teaspoons curry powder
1/2 teaspoon ground cumin
1 14.5 oz can Hunt's® Fire Roasted Diced Tomatoes with Garlic, undrained
1 15 oz can garbanzo beans, drained and rinsed
3/4 cup solid-pack canned pumpkin
3/4 cup water
1/4 teaspoon salt
1 cup frozen green peas
Directions
1. Place cauliflower in a covered microwave-safe container and microwave on HIGH for 8 minutes or until tender, stirring after 4 minutes. Cut or break large florets into smaller pieces.
2. Meanwhile, place curry powder and cumin in a large nonstick skillet and heat over medium heat just until fragrant.
3. Add undrained tomatoes, beans, pumpkin and water; bring to a boil over medium-high heat.
4. Add cooked cauliflower and salt.
5. Reduce heat to medium and simmer for 15 minutes, stirring in peas the last 5 minutes.
Meredith writes on behalf of ReadySetEat. Explore quick and easy dinner recipes and dinner ideas with ReadySetEat. Browse collections of recipes and discover fast, smart ways to cook dinner. For this recipe and other easy dinner ideas, visit www.readyseteat.com.