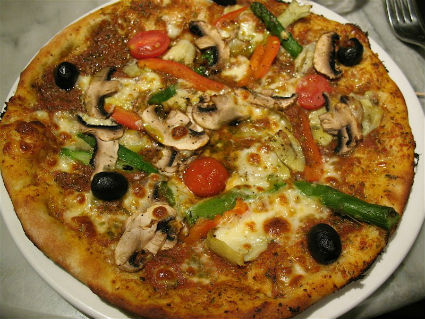 Ingredients:
Maida – 3/4 cup
Wheat Flour – 1/2 cup
Extra Virgin Olive Oil – 1 tblsp
Active Dry Yeast – 1 tsp
Granulated Sugar – 1/2 tsp
Lukewarm Water – 1/2 cup
Sea Salt – 1/4 tsp
Pizza Sauce – 1/4 cup
Zucchini – 1/2 cup, thinly sliced
Brown Mushrooms – 1/2 cup, thinly sliced
Red Capsicum – 1/4 cup, finely chopped
Red Chilli Flakes as per taste
Mozzarella Cheese – 1/2 cup
Method:
1. Mix the yeast, sugar and water in a large bowl.
2. Keep aside for 10 minutes.
3. Add maida, wheat flour, olive oil and salt.
4. Mix well to combine.
5. Transfer the dough to a lightly floured surface.
6. Knead dough for 5 to 8 minutes, adding extra flour if required.
7. Knead till smooth and slightly damp, but not sticky.
8. Keep the dough in a bowl and cover with a warm, damp cloth.
9. Keep aside for 30 minutes.
10. Transfer it back to a lightly floured surface.
11. Gently roll out to about 12 inches.
12. Place it onto a greased baking sheet.
13. Spread pizza sauce.
14. Arrange zucchini slices, mushrooms and red capsicum.
15. Sprinkle red chilli flakes and mozzarella cheese.
16. Bake in a preheated oven at 230C/450F for 20 to 22 minues or until crust is golden brown and sligthly crispy.
17. Remove and serve hot.
Tip: Add other vegetables as desired (broccoli, tomatoes, black olives, jalapenos etc…)
Subscribe to our Newsletter
Receive the latest recipes & kitchen tips !