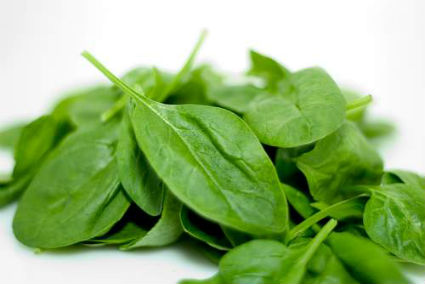 Ingredients:
Spinach – 8 cups
Peanut Butter – 2 tblsp
Garlic – 2 cloves, crushed
Ginger – 1 tblsp, grated
Vegetable Oil – 1 tsp
Lime Juice – 2 tsp
Soy Sauce – 1 tsp
Red Chilli Powder as per taste
Method:
1. Heat oil in a large pan.
2. Saute the garlic and ginger for a minute.
3. Add the spinach leaves and cover pan.
4. Steam cook for 2 to 3 minutes until the leaves has wilted. Remove and keep aside.
5. In a small bowl, combine the peanut butter, lime juice, soy sauce and chilli powder.
6. Drizzle the peanut sauce over the spinach leaves.
7. Mix well and serve at once.
Note: image is for illustration purposes only and not that of the actual recipe.