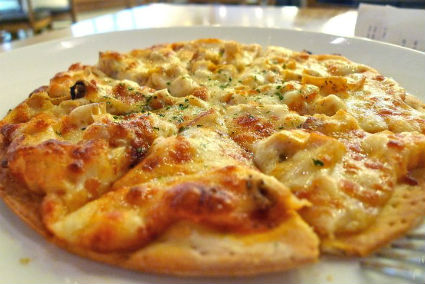 Ingredients:
Chicken Breast – 125 gms, grilled, shredded
Goat's Cheesse – 1/3 cup, crumbled
Active Dry Yeast – 1 tsp
Granulated Sugar – 1/2 tsp
Lukewarm Water – 1/2 cup
All-Purpose(Maida) Flour – 3/4 cup
Whole Wheat Flour – 1/2 cup
Extra Virgin Olive Oil – 1 tblsp
Sea Salt – 1/4 tsp
Pesto – 2 tblsp
Brown Mushrooms – 1/2 cup, sliced
Method:
1. Lightly grease a large baking sheet.
2. Whisk the yeast, sugar and water together in a large bowl and keep aside for 10 minutes.
3. Add maida, wheat flour, olive oil and salt.
4. Mix well to combine.
5. Transfer the dough onto a lightly floured surface and knead for 8 to 9 minutes, adding extra flour if necessary.
6. Knead till the dough is smooth and slightly damp, but not sticky.
7. Keep the dough in the bowl and cover with a warm, damp cloth for 30 minutes.
8. Place the dough on the floured surface and gently roll out to about 12 inches square.
9. Place it on the greased baking sheet.
10. Spread pesto, arrange the mushrooms and chicken on top.
11. Sprinkle the crumbled cheese and bake in a preheated oven at 230C/450F for about 20 to 22 minutes.
12. Bake till the crust is golden brown and slightly crispy.
13. Remove and serve.
Tip: mix and match toppings to your liking.