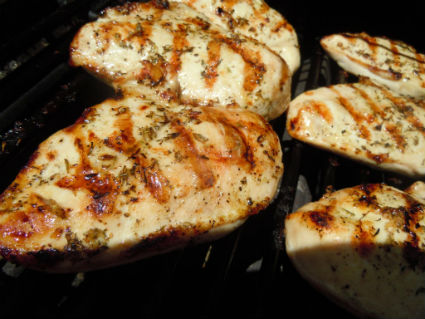 Ingredients:
Chicken Breasts – 120 gms, skinless, boneless
Sugar – 1/2 tblsp, granulated
Soy Sauce – 1/2 tblsp
Garlic – 3 cloves, crushed
Canola Oil – 1 tblsp
Zest of 1 Lemon
Sea Salt as per taste
Ground Black Pepper as per taste
Method:
1. In a medium bowl, mix the lemon juice, sugar, soy sauce, garlic, lemon zest, salt, pepper and oil.
2. Add the chicken and toss well.
3. Cover and keep it in a fridge for 2 hours.
4. Keep the chicken breasts on a preheated grill.
5. Grill for 20 minutes or until cooked.
6. Remove and transfer to a serving dish.
7. Serve with salad of choice.
image credit: nutmegnotebook.com