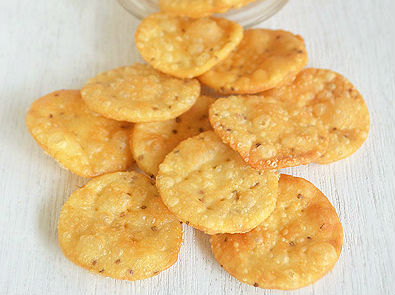 Ingredients:
Besan Flour – 4 cups
Turmeric Powder  – 1/2 tsp
Bicarbonate of Soda – 1/2 tsp
Oil – 2 tblsp
Ajwani – 1/2 tsp
Oil
Salt as per taste
Method:
1. Add the flour, turmeric powder, ajwain, salt, 2 tblsp oil and soda bicarb to a bowl.
2. Knead to a soft dough adding required water gradually.
3. Take a small portion of the dough and roll it into a small circle.
4. Make the remaining dough into small circles and arrange on a greased sheet or plate. Prick the papdis with a fork otherwise they will puff up.
5. Heat oil in a heavy pan and fry the strips on medium heat till crispy.
6. Remove and drain excess oil.
7. Allow it to cool and serve as a snack with chutney or use it to make chaat.
image credit: sharmispassions.com