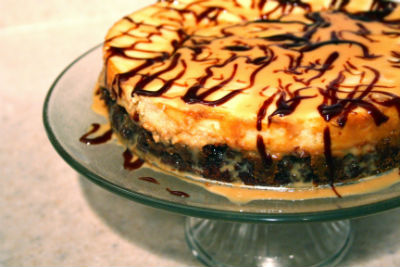 Brownies
First, make the brownies. You can always use a store-bought brownie mix or even brownies from a bakery, but this is an easy way to make them using ingredients you probably have on hand.
Ingredients:
1 cup sugar
2 eggs
1/2 cup softened unsalted butter
4 tablespoons baking cocoa
1/2 cup flour
¼ teaspoon salt
1 teaspoon vanilla
Put all ingredients into a bowl and mix with an electric mixer for about four minutes. Pour into a greased 8×8-inch pan. Bake at 350 F for 30 minutes.
Once the brownies are done, let them cool completely, and crumble into tiny bits. Set aside.
Pecan Crust

Next, make the crust. Start by finely chopping two cups of pecans. You can use a food processor to make this step quite simple. Mix 2 cups flour, ½ pound of cold, unsalted butter (2 sticks) and a dash of salt. Mix until it looks like cornmeal, then add the chopped pecans. Press the mixture up the sides and in the bottom of a 10-inch springform pan. Bake for about 10 minutes at 450 F or until golden.
Cheesecake
Here are the ingredients you'll need for the cheesecake layer:
1 14 ounce package caramels
5 ounces evaporated milk
Crumbled brownies you made earlier
3 8-ounce package of softened cream cheese
1 cup sugar
3 large eggs
8 ounces sour cream
2 teaspoons vanilla
Baking Procedures
First, layer the brownie crumbled over the pecan crust. Then, address the cheesecake. Beat the cream cheese on medium in an electric stand mixer until fluffy, about three minutes. Gradually add the sugar, and make sure the mixture is well blended, while scraping the sides and bottom of the bowl. Add the eggs, beating just until blended. Fold in the sour cream and vanilla.
Combine the caramels and milk in a small bowl. Then heat it in microwave on 30-second increments until the mixture gets melted and smoothened. (If you want to save a step, you could use a jar of caramel ice cream topping from the grocery store.) Pour the melted caramel over the brownies. Next, carefully pour the cream cheese mixture over the caramel and brownies.
Bake at 350 degrees for 50 to 60 minutes or until almost set. Start checking at 45 minutes to make sure it doesn't get too done. When just about set and the top is just golden, turn the heat off, and let the cake sit in the oven for another hour. Take it out; let it cool on a wire rack under room temperature; then cover and chill for eight hours.
Remove sides from pan.Garnish with candied pecans and chocolate curls.
If you're in the mood for something sinfully sweet, make this rich, velvety brownie caramel cheesecake. It's a lot of work, so plan ahead if you're making it for a special event. But it's well worth the effort, because it's sure to be a hit at any gathering!