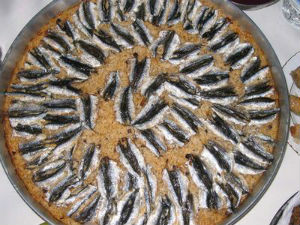 Ingredients:
Fresh Anchovies – 700 gms, cleaned and deboned
Salt – 4 tblsp
Butter – 75 gms
Onion – 1, finely chopped
Basmati Rice – 250 gms, washed under cold water and drained
Boiling Water – 600 ml
Hazelnuts – 2 tblsp, halved
Sugar – 1/2 tsp
Sultanas – 1 tblsp
Allspice Powder – 1/2 tsp
Salt – 1 tsp
Cinnamon – 1/2 tsp
Black Pepper – 1/2 tsp
For Garnish:
Dill Leaves – 1/4 tsp
Paprika – 1/2 tsp
Method:
1. Keep the anchovies in a large pan.
2. Sprinkle salt on top and keep aside.
3. Melt 50 gms butter in a large pan.
4. Add onions and fry for a few minutes until soft.
5. Add rice and fry for 5 minutes, stirring often.
6. Add water, nuts, sugar, sultanas, allspice, salt, cinnamon and black pepper.
7. Stir well.
8. Bring to a boil and cook for 3 minutes.
9. Reduce heat, cover with a lid and cook for 20 minutes until all liquid has been absorbed.
10. Grease a large casserole dish.
11. Rinse the anchoves under cold water and arrange half in a single layer.
12. Add the rice mixture into the casserole and spread evenly.
13. Arrange the remaining anchovies over the top.
14. Melt the remaining butter and pour it over the top.
15. Cover the dish and cook in a preheated oven at 190C/375F for about 20 minutes.
16. Remove from oven.
17. Garnish with the dill and paprika.
18. Serve hot.