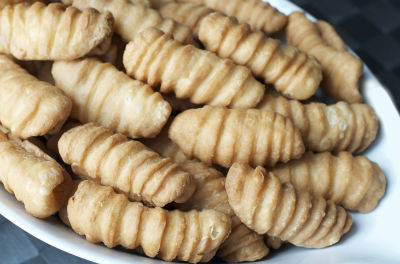 Ingredients:
Rava – 2 cups
Eggs – 6, beaten
Cardamom Powder – 2 tsp
Coconut – 2 cups, grated
Maida – 2 cups
Coconut Milk – 1 cup
Sugar – 3 cups
Ghee for frying
Butter – 4 tblsp
Method:
1. In a bowl, mix rava, maida, eggs, coconut milk, cardamom powder and butter.
2. Mix well and knead to a stiff dough. Add water if required.
3. Make small balls and flatten them using a fork.
4. Heat ghee in a pan over moderate flame.
5. Fry the kalkals till golden.
6. Meanwhile mix the sugar with 3 cups of water and place over moderate flame.
7. When the syrup starts to thicken, remove and dip the kalkals.
8. Roll the kalkals in the grated coconut and keep aside to dry.
9. Serve when cooled.
Tip:
This is a basic recipe for Kalkals. You can add edible food colours and make them in different colours.
If desired, you can substitute grated coconut with powdered sugar. Or you skip that step and leave it plain.
Kalkals are a colourful sweet popular in Goa and made during Christmas.
Subscribe to our Newsletter
Receive the latest recipes & kitchen tips !