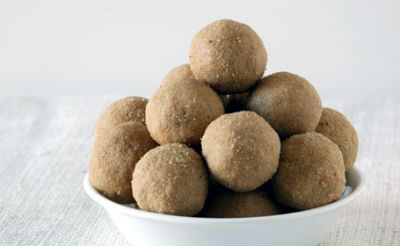 Ingredients for Andhra Urad Dal Ladoo
Urad Dal – 2 kg
Rice Flour – 1/2 cup
Jaggery – 1 kg
Ghee – 700 to 750 gms
Method:
1. Dry roast urad dal to a golden brown.
2. Grind to a coarse powder.
3. Dry roast rice flour and mix it with the urad dal.
4. Add finely chopped jaggery and mix well.
5. Heat ghee and pour it into this mixture.
6. Mix and make laddoos.
7. Store in an airtight container.
8. This stays good for a month.
image credit: nandyala.org