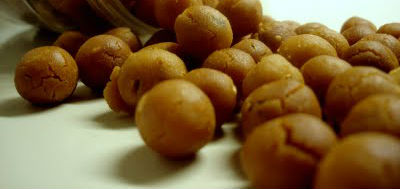 Ingredients:
Coconut – 1, grated
Rice Flour – 1 kg
Sesame Seeds – 2 tsp
Butter – 4 tblsp
Red Chilli Powder as per taste
Salt as per taste
Ghee – 2 cups
Method:
1. Mix rice flour with sesame seeds, butter, salt, red chilli powder and a little water.
2. Add coconut and mix well.
3. Make small rounds and fry in hot ghee till golden brown.
4. Remove and drain.
5. Serve as a tea-time snack.
Crispy fried rice balls
image credit: myculinaryworld-prasu.blogspot.in