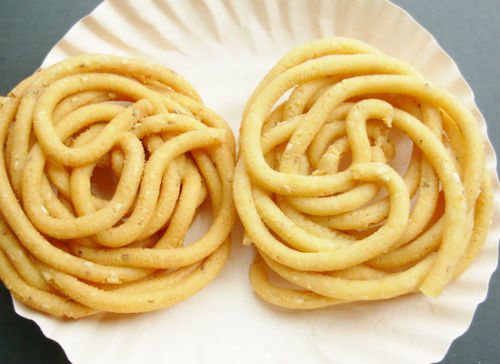 Ingredients:
Rice Flour –  cup
Sesame Seeds – 1/2 cup
Dry Roasted Gram – 1/2 cup
Cumin Seeds – 1 tsp
Ghee – 1/2 cup
Oil for frying
Asafoetida – a pinch
Salt as per taste
Jantikalu gottam (Murukku press) to form round shapes
Method:
1. Tie the rice flour in a cloth and keep it in a small pan.
2. Keep this inside a covered pan of boiling water for 5 minutes to steam.
3. Remove from pan.
4. Powder gram and mix with cumin, melted ghee, salt, sesame seeds, asafoetida and steamed rice flour.
5. Knead together into a soft dough.
6. Use the jantikalu gottam (murukku press) and squeeze out rounds into the hot oil.
7. Fry them on both sides until golden.
8. Remove and drain excess oil.
9. Serve.
image credit: keshavreddysweets.co.in