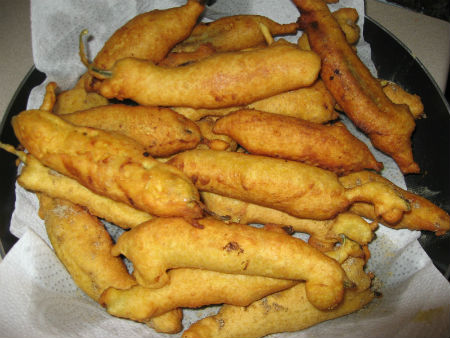 Ingredients:
Big Green Chillies – 250 gms (also called as Bangalore Chillies)
Salt as per taste
Potatoes – 250 gms
Mango Powder – 1 tsp
Coriander Leaves – 1 tblsp, chopped
Powdered Sugar – a pinch
Cumin Powder – 1/2 tsp
Besan Flour – 1/2 cup
Oil for frying
Method:
1. Slit the chillies lengthwise down one side.
2. Soak in 2 cups of water with 1 tsp salt.
3. Boil the potatoes. Peel and mash well.
4. Mix the potatoes with salt, mango powder, coriander leaves, powdered sugar and cumin powder.
5. Remove excess seeds from the chillies.
6. Stuff each chilli with the potato mixture.
7. Mix besan flour with wate and a little salt to make a smooth batter, but not thin.
8. Heat oil in a pan.
9. Dip the stuffed chillies in the batter and fry till light brown and crisp.
10. Remove and drain excess oil.
11. Serve hot with chutney of choice.