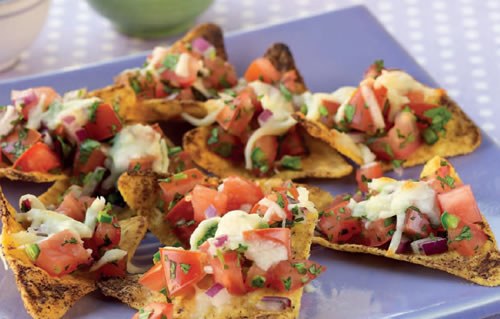 Ingredients:
Plain Tortilla Chips – 200 gms
Mozzarella Cheese  – 50 gms
Mature Cheddar Cheese – 50 gms
For the Salsa:
Tomatoes – 350 gms
Red Onion – 1/2, finely chopped
Garlic Cloves – 2, crushed
Juice of 1/2 Lime
Coriander – 4 tblsp, chopped
Sugar – 1/2 tsp
Green Chilli – 1, deseeded and chopped
Method:
1. Cut the tomatoes in half and remove the seeds, then dice.
2. Place in a bowl and stir in all the remaining salsa ingredients.
3. Place the nachos on a large baking tray or shallow ovenproof dish and spoon over the salsa.
4. Scatter over the cheese.
5. Place under a preheated grill for 3 to 4 minutes until the cheese has melted.
6. Serve with sour cream.