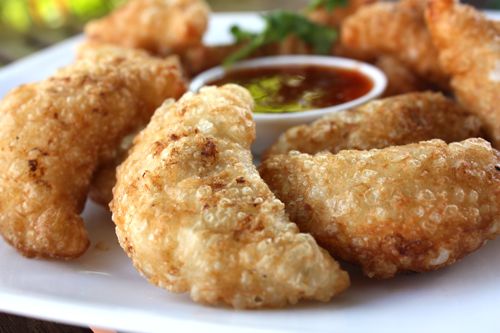 Ingredients:
Prawn or Shrimp – 300gms
Sunflower/Vegetable oil – 3 tablespoons
Onion – 1 large, finely chopped
Tomato – 2 small, finely chopped
Garlic paste – 2 teaspoons
Ginger paste – 1 teaspoon
Red chilies – 6, dried
Cumin seeds – 1 teaspoon
Mustard seeds – 1/2 teaspoon
Cinnamon – 1 inch
Cloves – 5
Sugar – 1 teaspoon
Vinegar – 1/3 cup
Salt as per your taste
Frozen puff pastry – 5 sheets
Egg yolk – 1, whipped smooth
Method:
Sprinkle salt on the prawn and set aside.
Roast the cumin seeds, red chilies, clove, mustard seed and cinnamon till they crackle and you can smell the aroma.
Remove them from heat and let them cool enough so that you can handle.
Grind the roasted spices with the ginger and garlic along with vinegar into a smooth paste.
Stir fry the prawns till they are opaque and set side.
Fry the onion till they are brown
Now add the chopped tomato in the same oil and fry them till they are tender.
Add the spice paste, salt and sugar and fry till the oil separates from the spice.
Now add the prawns, cook for 3 minutes and keep aside.
This is the filling that will be later used for stuffing the puffs.
While you prepare the puffs preheat the oven to 220°C.
Line a baking tray with a foil paper and sprinkle with a little cooking oil.
Cut as many 4X4 inch squares from each sheet. You should have about 20 squares.
Place a little of the filling in the centre of each square and fold it to form a triangle.
Seal the edges and brush them with the egg yolk lightly. You can also pinch or pleat the edges to give them an artistic look.
Arrange them on the baking tray and put them in the oven to bake. Do not keep the puffs too close as they might stick together while baking.
Bake the puffs till they are golden.
Remove them and let them cool at room temperature.
You can serve them with your favorite dip at tea time
This dish is sure to make your guests want more. As in the case with seafood recipes, you must give them a try at your home before you serve them to your guests.
Author Bio:
Jenny Smith is a food enthusiast and likes to try out new recipes. Here, she shares one of the seafood recipes in her collection.